Hi Everyone!
I hope you all had a great weekend. We are getting ready for a busy week in preparation for back to school next week. Have your kids started back to school yet?!
This week's recipe is something I've been wanting to try for a while. Occasionally, I get inspired to try to just make something on my own...without the aid of Google or Pinterest! So, I thought an easy thing to make would be a Greek inspired pasta salad. So, after a bit of thinking and a trip to the grocery store, this is what I came up with:
Now, I will say that this makes a BIG bowl of pasta salad! I probably should have waited until I had a pot luck of some kind to attend, because as of now, it's just me eating it...which I'll probably be doing until Christmas! (Kidding...I'm kidding...)
It was super easy to make, however and completely customizable. You can add or leave out any of the ingredients you want, really. I try to think of things to add that fit the Greek theme, since that is the point of the salad, after all.
So here we go:

Ingredients:
-- 1 12oz bag of tri-colored pasta
-- 1/2- 3/4 cup of Kraft Greek Vinaigrette Dressing
-- 1/4 cup pitted Kalamata Olives halved
-- 1 jar of marinated artichoke hearts. (you may not need the whole jar)
-- 1 Roma Tomato seeded and diced
-- Crumbled Feta Cheese to taste
-- 1 Tbsp honey (optional)
-- Black Pepper to taste
-- 1 cup diced cooked chicken (Optional)
Directions:
-- Cook pasta according to directions, drain.
-- While pasta is warm add the Vinaigrette dressing. Start with the 1/2 cup and toss. Taste test and add more if desired. Set aside to cool for about 5-10 mins
-- Add the remaining ingredients (except the honey) and toss well.
-- Taste Test.
-- There are a lot of salty items in this recipe, so here is where you can decide if you want to add the honey. I did...I found it was just enough (don't add more than a Tbsp) to balance out the saltiness.
This pasta salad is delicious served immediately while it's still a little warm or is also fantastic served cold the next day!
Linky parties: (Some of these weren't posted yet at the time I posted this, so I will go back throughout the day and set the links)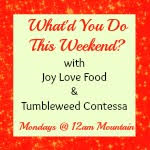 Have a great day!